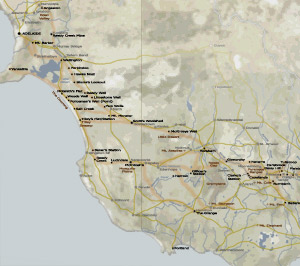 – Home –
Welcome to our website - Overland Gold - which provides a forum to share information relating to travel between the copper mining areas of South Australia and the Victorian goldfields in the early 1850's - an integral part of early Australian history.
We hope you can contribute to this resource.
Introduction:
In 1851 after news of gold discoveries in Victoria reached the copper mining regions of South Australia, in particular the settlement of Burra, many left immediately for the Victorian goldfields, leaving homes, jobs, and in some cases families. The extent of the subsequent overland migration lead to considerable economic pressures on the Burra mines, the area surround it, and the state of South Australia itself.
A significant number of travellers made their way overland - a journey which generally took around 6-8 weeks - depending on the route taken, a distance of approximately 450 miles (725 kms).
Did they walk? How did they travel? How did they find the way? How many were involved?
There is increasing interest amongst family historians in stories that complement family tree research. By providing this forum and collecting accounts, references and data relating to people who made the journey, we hope to increase understanding of the subject. We also aim to provide a guide for those who would like to 'follow in the footsteps' of their forebears.
While the focus is on travel from the Burra area of South Australia (to which many Cornish were attracted in the late 1840's and early 1850's), travel to the goldfields from all areas of South Australia during this period will be included.
Information sought:
details of diaries and other first-hand accounts of travel or of travellers passing through regions
details of published sources, newspaper accounts and other similar reports
background information regarding settlement along the routes in 1851-1852, including stage or size of the settlement, access to and availability of water, existing trade or travel routes, land use and business in the area, etc.
details of records held relevant to this period, such as businesses providing services to travellers
We seek the involvement of:
family historians whose forebears made the journey
genealogical societies, family historians and genealogists with knowledge of this subject
local historical societies and museums in communities along the route/s taken
A Do-It-Yourself Travel Guide has been developed to enable travellers to follow todays equivalent of journeys in the early 1850s. Feedback on the Travel Guide and all aspects of this site is welcome.
Contact:
Ms Moira Drew
Project Coordinator
Phone: 03 9525 9083
Email:
This project is supported by a grant from the Victorian Government under the Local History Grants Program administered by the Public Record Office of Victoria.
---
Overland Gold Home | Next THE PROJECT: Aims | CAoV website